Online Payment Service via Stripe
A fast and easy payment solution for your website.


We make card payment on your website really easy. The Payment Service uses Stripe integration. You can order from us credentials that you can integrate into your own Payment Services on your website. This is a really easy, fast and reliable online payment service for any kind of website (if website terms enforceable). We accept all major debit and credit cards from customers in every country; for example Visa Debit/Credit, Mastercard, American Express, Discover, Diners Club, JCB and UnionPay.

We support at least the below mentioned payment options:

B2B payments
Card payments
Integrated checkout with recognition
External link checkout with recognition
Security with 3D Secure
Checkout experience that works across all kinds of browsers and devices (mobiles, tablets, macs etc.)
Dynamic statement descriptors in payment
Authentication features
Full/partial refunds
CVC/AVS checks
Customized UI.
Create a brilliant payment experience that works across all browsers and devices. You can choose from 2 options: customized embedded online payment for your website or a direct link to Kliffa Payment Service.

The payment service always uses a secure and encrypted TSL connection during each transaction. All debit/credit card numbers are encrypted when they are delivered to the server according to AES-256 standard. We don't preserve any client's card numbers but send them immediately forward to Stripe.

In order for you to receive funds, Kliffa Online Payment Service via Stripe makes payouts to your bank account. Payouts are made once a month and include all payments from the previous month.

We observe The Second Payment Services Directive (PSD2) (EU) 2015/2366 of the European Parliament and of the Council on payment services. PSD2 has been designed by the countries of the European Union. It secures payments, affecting everything from the way we pay online, to what information we see when making a payment.

Read more by Stripe.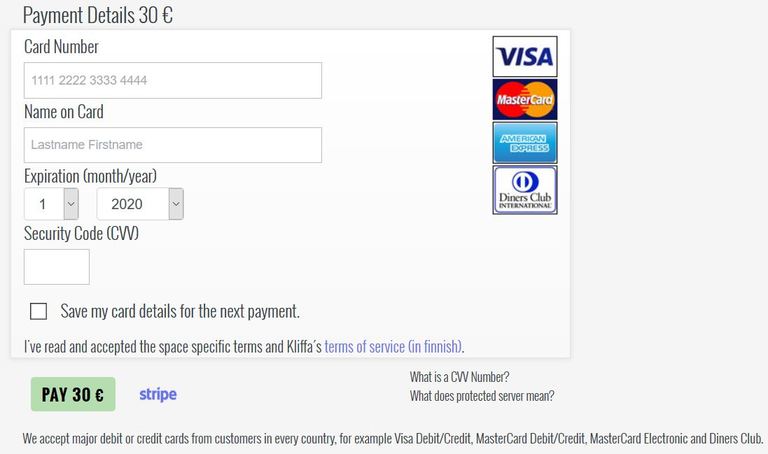 Step-by-step tutorial to how payment integration works
MAKE AN ORDER TO ONLINE PAYMENT SERVICE
Please contact if you want to order credentials for our services.
WE WILL SEND CREDENTIALS TO YOU
You get the credentials and instructions on how to begin with Online Payment Service.
INSTRUCTIONS
Explore your instruction.
GET STARTED
Embed Online Payment Service into your website.
PAYMENT SERVICE IS IN USE
The Online Payment Service is a fast and easy way to start your own web store. Installation won't take long.
Pricing
Basic fee 10€ per month (excl. VAT). Transaction is 0.95€ + 1.95% per transaction.